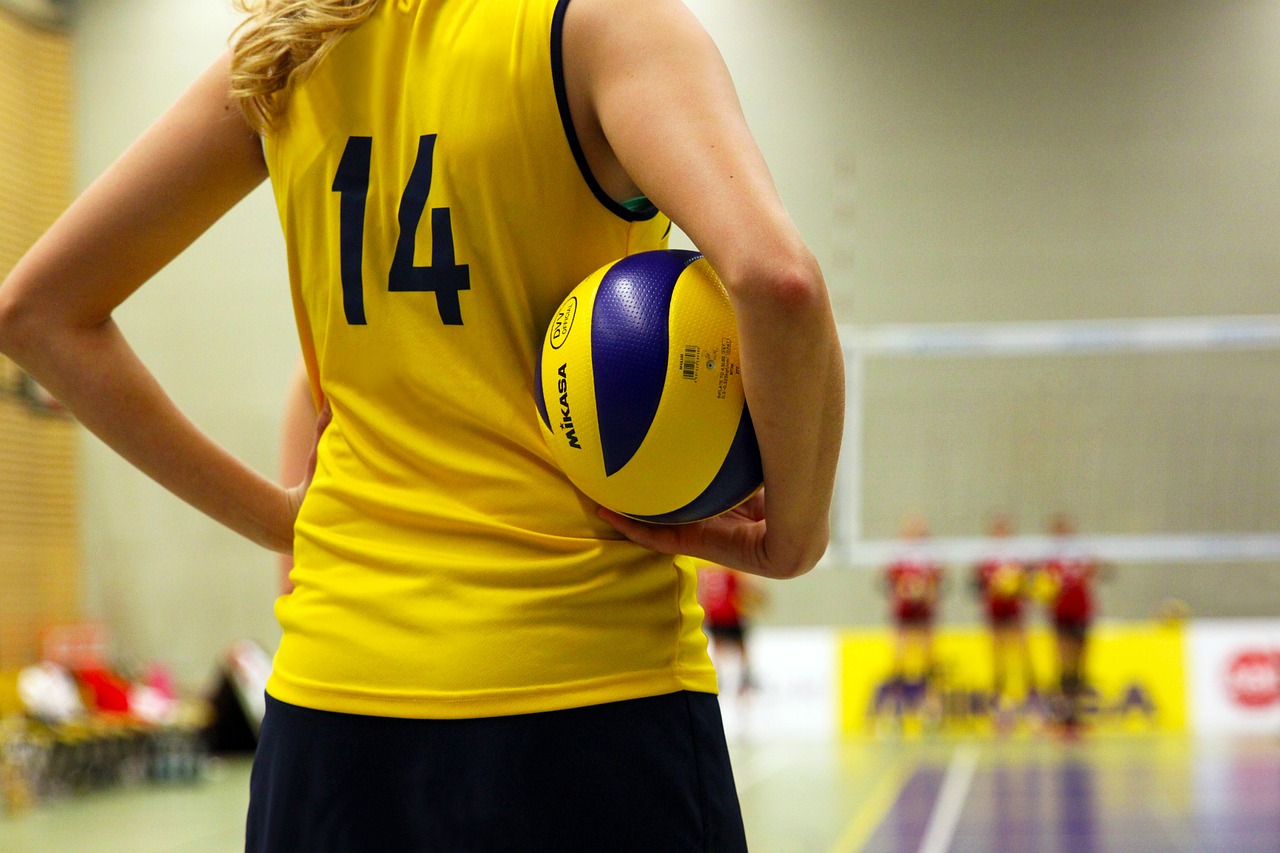 I was in 8th grade, and our family had just moved to a new state. In the past, my gym experience had consisted of making sure the teachers knew I was trying, and not looking too relieved when I got hit with the dodgeball and could sit on the sidelines.
In most team sports, I could run around and still become translucent enough for the other kids to forget to pass me the ball.
But this new school implemented a torture program called skills tests. The teacher would grab her clipboard and check our names off if we bumped the volleyball in the air 100 times in a row. (Okay, maybe it was only 10 times).
I had enough coordination to play a Mozart Minuet on my violin, but could not, for the life of me, get that volleyball to return to my clutched hands when I bumped it into the air.
The other kids stood around watching me (or maybe they'd already started to head to the locker room to change), and there I was, chasing after my renegade volleyball with the gym teacher telling me to try again.
I concluded that I'd be able to save myself a lot of pain and embarrassment if I avoided these situations as much as possible. Since my parents wouldn't let me homeschool gym class, I had to continue risking my GPA and dignity.
But there were plenty of other chances I could put my theory to work.
The youth group was getting together to play soccer? Offer to take pictures instead.
The summer camp was doing a relay involving shaving cream and wet thrift store clothes?
Find some other girls who wanted to be cheerleaders on the sidelines with me. (And who were also equally disgusted with the idea of jumping in a mud pit for fun)
It seemed to work fairly well, pretending everyone else was on some reality show that I couldn't join even if I'd tried. (I'd even whisper jokes into my friend's ear sometimes, because I knew she'd be brave enough to say them out loud and make people laugh.)
But soon these ideas bled into almost all of my relationships and thoughts.
Introduce myself to the new kid at church? What if I don't know what to say?
Speak up in Sunday School class? I'll probably stumble over my words, and people will be wishing the whole time that I'd be quiet so someone more capable could vibrate their vocal cords.
Play my violin on the youth worship team? Worship teams don't have violins, and I might ruin the song with wrong notes.
Pray out loud with someone? What if I get so nervous I say something heretical or there is a long five-second silence?
Over the years, Jesus has used mentors, friends, and His Word to open my fist enough for some of the fears to slip away.
Here are three things I learned (and am learning) in the process:
1. It takes practice.
Once I started introducing myself to a few people, it became less finger-numbing and sweaty. I found myself asking similar questions to find out about their lives.
I'd steal my husband's question and ask what they did for fun. I'd volunteer some information about myself and my interests. Each time it got a little easier, (with a few awkward moments still sprinkled in there to keep me on my toes).
When I'd make a comment in a class, sometimes no one would grab onto it as I silently reeled in my empty fishing line of thoughts. I'd go home and replay the scenes in my head, wishing I'd said something different. Sometimes, I'd ask for Jesus' help to not think about it anymore.
He caused me to realize that before I started contributing my thoughts, I would always wish I'd been brave enough to say something.
One summer in high school, I shared with my camp counselor about being afraid to speak up. She challenged me to think about what I would be selfishly keeping from the Body of Christ by not sharing the insight I'd learned.
When I was finally brave enough to join the worship team, I got to use the classical musical knowledge I had gained in a new way, adding harmonies to the guitar chords like sprinkles on a cup cake. And I even made some friends in the process.
Praying out loud became easier when I "practiced" praying in my private devotions, asking myself what I really wanted God to do in people's lives, how I wanted them to feel His grace and love in their pain, and look to Him when they were struggling. (An exciting added dimension in this stage of life has been praying with someone while keeping an eye on my toddler who likes to soak himself at the drinking fountain.)
2. It takes focusing more on the other person than on myself.
Sometimes, if someone asks me a question in front of a group, I feel like I have a personal court stenographer who's going to write down everything I say and read it back so everyone can laugh at how un-eloquent I am.
But when those fears threaten to tie a gag around my mouth, I have to remember where my identity comes from. It's not about what I say and do. It's about finding my confidence in Christ's finished work on the cross.
Only when I know my identity is secure can I invite others to delight in Him as well. I can risk some awkward silences and miscommunications.
If it's more about showing others God's glory than looking good ourselves, it doesn't really matter whether we could have been more witty or intellectual-sounding.
In fact, maybe our fancy words would have just gotten in the way, like trying to convince someone how delicious a souffle is before letting them taste it for themselves.
3. It takes grace. Lots of it.
It's not easy to admit to being wrong or have someone disagree with me. It's scary to feel misunderstood. But I'm reminded that I'm not alone when I read the gospels and see how many people disagreed with and misunderstood Jesus, who was perfect. It might not be me they are rejecting.
And when I do say something I wish I hadn't, I can always ask for forgiveness and accept the grace Jesus offers every second of every day.
Sometimes I still like to just listen and observe. I don't want to try to become an extrovert. But I also don't want to miss the chances that God wants to love someone through me.
Jesus, show us how to bravely love like you this week. We are yours.