Marriage and Family
Show Them Jesus: Teaching the Gospel to Kids
"Millions of church kids are growing up and deciding to leave the church. They listened attentively in Sunday school, made friends, and seemed committed. But one day, they quit. What happened? The Bible says we love God because he first loved us. So if we are not primarily teaching our kids about God's love for us in Christ, we may miss our opportunity to capture their hearts. But what does it look like to teach a gospel-centered lesson?"
This book invites parents and Sunday School teachers to do nothing less than teach and treasure the good news of Jesus in every lesson. The methods explained in this book really did make me feel equipped to use every Bible opportunity as a chance to point my kids to Jesus.
Parenting is Gospel Ministry (A one hour talk–free)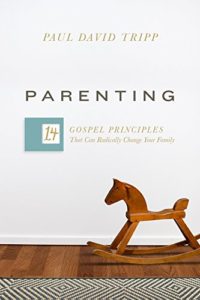 "Parenting is much more than controlling the behavior of your children. Parenting is actually about heart exposure and heart change. We know only Jesus Christ can create the kind of lasting change in the human heart that will transform behavior. In this workshop, Paul Tripp (author of Parenting: 14 Gospel Principles That Can Radically Change Your Family) speaks on how to let the gospel shape what you say and do with the children who have been entrusted to your care." (This talk left me in tears, it was so powerful. And the book is perspective-changingly excellent.)
What if God designed marriage to make us holy more than to make us happy? This book has some powerful insights for women and men as we seek to glorify God in our marriages.
Risen Motherhood Podcast (free)
"This is the podcast for moms who need the refreshing truth of the gospel repeated over and over, giving us hope in the everyday moments. We are imperfect mothers, still learning, still growing and still fully recognizing we don't have it all together – but we serve a God who does."
It's been encouraging to listen to these two moms discuss all kinds of topics on motherhood through the lens of the gospel.
"This is a small collection of thoughts on mothering young children for when you are motivated, for when you are discouraged, for the times when discipline seems fruitless, and for when you are just plain old tired."
Each chapter is only two pages long, but provided much fodder for discussion in our moms prayer group.
"Fit to Burst is chock-full of humorous examples and fresh advice covering issues familiar to every mom such as guilt cycles, temptations to be ungrateful or bitter, and learning how to honor Jesus by giving in the mundane things. But this book also addresses less familiar topics, including the impact that moms have on the relationships between dads and kids, the importance of knowing when to laugh at kid-sized sin, and more."
Treasuring Christ When Your Hands Are Full

"Grocery shopping. Soccer practice. Dirty dishes. Motherhood is tough, and it often feels like the to-do list just gets longer and longer every day—making it hard to experience true joy in God, our children, and the gospel.
In this encouraging book for frazzled moms, Gloria Furman helps us reorient our vision of motherhood around what the Bible teaches. Showing how to pursue a vibrant relationship with God—even when discouragement sets in and the laundry still needs to be washed—this book will help you treasure Christ more deeply no matter how busy you are."
I read this book shortly after my daughter Hosanna was born, and it was a gift to be reminded of gospel truth in the fogginess of those first weeks.
Missional Motherhood: The Everyday Ministry of Motherhood in the Grand Plan of God
"There's no such thing as "just" a mom.
Despite the routine tasks and mundane to-do lists, motherhood is anything but insignificant. God has designed motherhood as part of his greater plan to draw people to himself—instilling all women, whether called to traditional mothering or not, with an eternal purpose in nurturing others." (See also Glimpses of Grace)
"We must tell our kids of the grace-giving God who freely adopts rebels and transforms them into loving sons and daughters. If this is not the message your children hear, if you are just telling them to "be good," then the gospel needs to transform your parenting too.
"Give Them Grace is a revolutionary perspective on parenting that shows us how to receive the gospel afresh and give grace in abundance, helping our children know the dazzling love of Jesus and respond with heartfelt obedience."
This book is written for parents with children of any age. Tedd Tripp gives helpful Scriptural principles and shares about the importance of good communication and discipline. The first half of the book digs into the biblical foundation for discipline, and the second half focuses on methodology for each stage in a child's life.
Mom Enough (Free!)
"This short book with twenty-four short contributions from seven young mothers, explores the daily trials and worries of motherhood. In the trenches, they have learned how to treasure God and depend on his grace."
Am I "Mom Enough?"
Absolutely not.
I read an article each day one month, and it provided so much encouragement as well as the feeling that I'm not alone in the journey.
"Shows parents and teachers how children's learning experiences can be extended to every aspect of life, giving them a new richness, stability, and joy for living."
This book has given me so much rest as I seek to train my little ones and we do life together each day. (And it's written by the daughter of American Evangelical Christian theologian, philosopher, and pastor Francis Schaeffer.)
Kids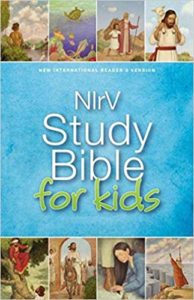 "The bestselling NIrV Study Bible for Kids starts early readers ages 6 to 10 on the rewarding path of reading and studying God's Word. This Bible uses the complete text of the New International Reader's Version® (NIrV) which is written at a third-grade reading level and is perfect for those learning to read. With colorful artwork, easy-to-read Bible text, and fun features, kids will engage with the Bible in a way that makes it stick."
I love this version! It's helped me stay focused as I read in mom-fog sometimes, and is great to share stories straight from Scripture with my kids.
Egermeier's Bible Story Book (age 4 and up)
"Stories from the Old and New Testaments are told in chronological order, helping readers journey through a complete narrative of the Bible, from Genesis to Revelation. Egermeier's® Bible Story Book includes: 312 biblically accurate stories from the Old and New Testaments written in an engaging, easy-to-understand style with 122 vibrant, full-color illustrations."
This is a great transition between using Bible storybooks geared towards preschool children and reading the stories straight from Scripture. 
"The New City Catechism is a modern-day resource aimed at helping children and adults alike learn the core doctrines of the Christian faith via 52 questions and answers."
There is a print version of the questions available on their website, and also a free app with the questions and answers and even a few songs that go along with the questions. Each answer also has a shortened version highlighted for young children to memorize. Reading through it with my 4 year old has sparked some interesting conversations as we've tried to memorize it together.
"Many parents struggle to teach their children systematic theology, or even lead family devotions. The Ology will help you do both. Marty has made another significant contribution to biblically faithful, gospel-centered, creatively designed, accessible materials that help parents raise their kids not merely to know about God, but to have a relationship with him through Jesus Christ."
Bob Kauflin, Director of Sovereign Grace Music
"Few tasks are of greater importance than the discipling of children. Christian parents and Sunday school teachers, committed to biblical fidelity, cannot neglect the tremendous task of teaching children the great truths of Scripture. Marty Machowski's The Ology: Ancient Truths Ever New is a wonderful new book that will equip parents for the task of discipleship and also help children immerse themselves in the Christian worldview."
R. Albert Mohler, Jr., President of The Southern Baptist Theological Seminary
Spotify Playlists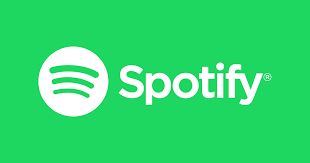 For teaching kids Scripture and theology
Fear Not: A Playlist by Scripture Lullabies
Individual albums
Rain For Roots
So many Bible story songs focus on the "heroes" of the Bible. These upbeat, folksy cds focus on God as the true Hero.
When Isaiah was a newborn, I found myself listening to these even when he was asleep.
The first cd uses the words to the Baby's Hug-a-Bible as the lyrics.
Christopher and I used these gospel-centered songs with our Sunday School kids.
Some of the songs have kids' voices, and they are fun listening and easy singing.
Hidden In My Heart Scripture Lullabies 
Using Scripture as the lyrics, these lullaby cds have brought such calmness to my soul in times of stress.
I listened to them quite a bit in the last 2 weeks before Isaiah was born.
There are also some gorgeous instrumental songs mixed in.
Be Held: Lullabies For the Beloved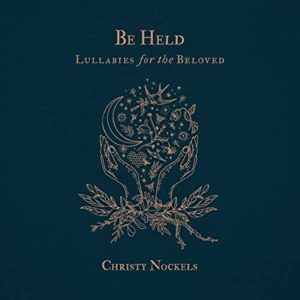 Beautiful arrangements, and there is also an instrumental version of this CD.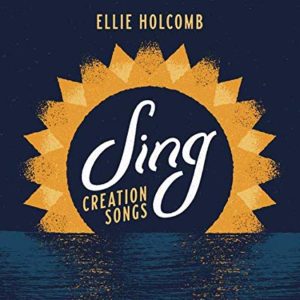 I love all of Ellie Holcomb's albums, but this one geared towards kids has been greatly enjoyed by all of us.
"Our mission is to equip the Church worldwide with rich, Biblical music to help children learn their faith through song."
I can't get these little songs out of my head, and am so excited for my children to grow up hearing (and memorizing) these Bible verses set to music. She also has a series of albums teaching the Catechism for Young People through song. 
Jesus Storybook Bible (Ages 4 and up)
Who is the true knight in shining armor in the stories in the Bible? Jesus!
Subtitled, "Every Story Whispers His Name," the Bible stories show Jesus at the center of God's redemption story and their story, too.
Plus, the pictures are beautiful, and there is even a Sunday School curriculum available.
 Thoughts to Make Your Heart Sing
"101 simple-yet- profound thoughts on faith. Thoughts to Make Your Heart Sing shares profound spiritual truths from the Bible told in a conversational tone—drawing insights from creation, history, science, the writings of great thinkers and preachers and writers, and more—to turn the reader's eyes toward the God who loves them with a Never Stopping, Never Giving Up, Unbreaking, Always and Forever Love."
The Biggest Story: How the Snake Crusher Brings Us Back to the Garden
"The Bible is full of exciting stories that fill children with awe and wonder. But kids need to know how all those classic stories connect to Scripture's overarching message about God's glorious plan to redeem his rebellious people.
In The Biggest Story, Kevin DeYoung—a best-selling author and father of six—leads kids and parents alike on an exciting journey through the Bible, connecting the dots from the garden of Eden to Christ's death on the cross to the new heaven and new earth." Ages 5-8 (read to me) Ages 8-11 (read to myself)
"Can a Bedtime Story Actually Change Your Life? It is easy to forget Jesus in the midst of frantic schedules, family squabbles, and conflicting priorities. But the truth is that he is the hero of every story, including these ordinary ones. This is why Marty Machowski puts God's plan of salvation in Christ on continuous display in The Gospel Story Bible.  (And includes child-friendly questions for discussion.)
If you've seen Baby Einstein, these DVDs are similar, except they have worship songs in the background and engaging video footage and pictures of everything a toddler loves—babies, animals, cars, food, friendly faces, etc.
You can even select only children's voices singing the worship songs or an instrumental version.
Spiritual Growth and Discipleship
"If you are a new believer or know someone who is, Fundamentals of the Faith is the perfect resource for establishing a solid biblical foundation for the Christian life." 
This is an excellent discipleship material! It is in a workbook format with links to audio sermons related to each topic. 
"Imagine if there was a way that people could grow in their knowledge of the Lord Jesus Christ—a way that returned gospel growth to the everyday fabric of personal relationship, rather than relying on church-run programs. That guided people in a deeper, more meaningful way than an event, program or class could possibly do—guided on an individual basis by someone who cared for them personally.
What is this way? What is this activity that is so simple and so universal that it meets the discipleship needs of very different people at very different stages of discipleship, even non-Christians?
We call it reading the Bible one-to-one."
Not sure how to study the Bible with a friend? Or where to even start? This resource is an excellent guide, with separate questions for each genre of Scripture. You can also find the free pdf questions here. 
"EVERY MOMENT HOLY is a book of liturgies for the ordinary events of daily life–liturgies such as "A Liturgy for Feasting with Friends" or "A Liturgy for Laundering" or "A Liturgy for the First Hearthfire of the Season." These are ways of reminding us that our lives are shot through with sacred purpose even when, especially when, we are too busy or too caught up in our busyness to notice."
This is such a beautiful guide for learning how to see every part of our lives as a way to meet the Lord. (And McKelvey's words are so well-chosen and biblical.) I'm hopeful that the less-expensive paperback version will be released soon, but you can find the hardcover version now. 
This is a collection of puritan prayers and devotions. Don't let the cover turn you off. It is filled with scripturally and theologically rich prayers to worship and enjoy God. It's often been a great starting place to help me worship God and then talk to Him about what's on my mind and heart. 
"This book has been prepared not to 'supply' prayers but to prompt and encourage the Christian as he treads the path on which others have gone before."
You can read the prayers for free here, but I'm grateful for my hardcopy to highlight and meditate on.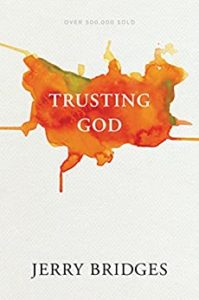 "Why is it easier to obey God than to trust Him?
Because obeying God makes sense to us. In most cases, His laws appear reasonable and wise, and even when we don't want to obey them, we usually concede that they are good for us. But the circumstances we find ourselves in often defy explanation. Before long, we begin to doubt God's concern for us or His control over our lives. We ask, "Why is God allowing this?" or "What have I done wrong?"
God has used this book so powerfully in my life to equip me in the battle with anxiety. You can read more here.
"Think Again offers real relief from the burden of introspection that so many of us carry each day. Pastor Jared Mellinger, who tends to overdose on self-analysis himself, shows us how the hope of the gospel can rescue us from the bad fruit of unsound introspection. Mellinger's short, story-filled chapters help readers identify and turn away from unhealthy introspection. There is an outward-focused God who delights to rescue an inward-focused people and lead them into a better way to live. When we truly understand it, we ll see that the gospel actually sets us free from thinking about ourselves too much. We can seek after and pray for the peace and joy the sanity that comes from thinking about ourselves less often."
Read with a highlighter in hand, so you can go back and soak in all these gospel truths in the times you are feeling burdened by introspection. 
Not sure how to pray for the needs of the world? This is an incredible resource of 4-5 minute videos (from hundreds of places around the world), leading you in how to pray for them.
The Bible Project videos (free)
Their goal: To help people experience the Bible as a unified story that leads to Jesus.
I can't recommend these short videos enough. There are videos giving the historical background, themes, and outline of each book of the Bible along with illustrations, and also videos about themes throughout Scripture. Just watch one. You'll be hooked.
Exploring My Strange Bible Podcast (free)
If you like The Bible Project, this podcast is a collection of Tim Mackie's teaching series on The Making of the Bible, Heaven and Hell, and series going through different books of the Bible. So much gold in this. 
New Morning Mercies: A Daily Gospel Devotional by Paul Tripp
"Forget "behavior modification" or feel-good aphorisms. Tripp knows that what we really need is an encounter with the living God. Then we'll be prepared to trust in God's goodness, rely on his grace, and live for his glory each and every day."
I got the audio version of this book and listen to his 1-2 minute devotional usually as soon as I wake up in the morning. It's been another way to celebrate God in my thoughts.
I've referenced Jen Wilkin's talks in a couple blog posts, but she has an excellent blog and podcasts of women's biblestudies through Exodus, Joshua, Judges, James and 123 John.
I appreciate the way she incorporates God's story of redemption and the fulfillment in Jesus' death and resurrection to her Old Testament studies.
Women of the Word: How to Study the Bible with Both Our Hearts and Our Minds
"How can we, as Christian women, keep our focus and sustain our passion when reading the Bible?
Offering a clear and concise plan to help women go deeper in their study of Scripture, this book will equip you to engage God's Word in a way that trains your mind and transforms your heart."
If you've wanted to dive deeper into studying Scriptures, but been overwhelmed by the possibilities, this book provides an excellent guide for beginning study.
Many of her thoughts are well-expressed in a recent talk she gave called How Your Quiet Time Should Change You.
None Like Him: 10 Ways God is Different Than Us (And Why That's A Good Thing)
"Our limitations are by design. We were never meant to be God. But at the root of every sin is our rebellious desire to possess attributes that belong to God alone. Calling us to embrace our limits as a means of glorifying God's limitless power, Jen Wilkin invites us to celebrate the freedom that comes when we rest in letting God be God."
This book put words to many of the sins I struggle with and how Jesus wants to free me from them so I can enjoy Him more. Also check out her second book In His Image.
Humble Roots by Hannah Anderson
"Humble Roots is part theology of incarnation and part stroll through the fields and forest. Anchored in the teaching of Jesus, Anderson explores how cultivating humility—not scheduling, strict boundaries, or increased productivity—leads to peace.  "Come unto me, all who labor and are heavy laden," Jesus invites us, "and you will find rest for your souls."
Ideas of stewardship and embracing limitations while focusing on a limitless God have continued to come to my mind as I think about this book. The concept of humility also started jumping off the page as I read Scripture. Also, check out her other two books: Made for More: An Invitation to Live in God's Image and All That's Good: Recovering the Lost Art of Discernment.
Delighting in the Trinity by Michael Reeves
"Why is God love? Because God is a Trinity.
Why can we be saved? Because God is a Trinity.
How are we able to live the Christian life? Through the Trinity.
In this lively book, we find an introduction to Christianity and the Christian life that is from start to finish rooted in our triune God―Father, Son and Spirit. Not only do we understand the person and work of Christ through the Trinity, but also prayer, the church and every aspect of our faith."
Just imagine if we could begin each day (or wake up each night) remembering and delighting in our loving Father, salvation-giving Jesus, and empowering Spirit?
Audio Resources by Michael Reeves about Delighting in the Trinity (free)
Short Videos by Michael Reeves about Delighting in the Trinity (free)
"God is most glorified in us, when we are most satisfied in him — desiringGod.org exists to help people everywhere understand and embrace this truth. We aim to make the glory of God and the goodness of joy the foundation and flavor of everything we do."
I have especially appreciated some of the articles on motherhood, though there is a topical index of all areas of Christianity, as well as sermons and books.
This network of churches "encourages and educates believers advocating gospel-centered principles and practices that glorify the Savior and do good to those for whom he shed his life's blood."
I have been especially blessed listening to the audio sermons and workshops from the women's conferences they organize each year.
Worship
Spotify Playlists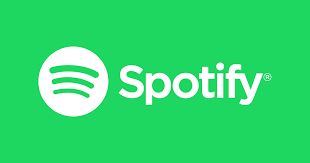 For teaching kids Scripture and theology
Fear Not: A Playlist by Scripture Lullabies
For Christmas and Easter:
Individual albums:
Hidden Treasures: A Sacred Harp Album
My husband Christopher produced this cd at a professional recording studio. The four-part harmony hymns are from a 1800s rural style of music and Christopher sings all parts.
Many of the songs focus on the beauty of the resurrection.
I appreciate the focus of many of these songs on praising God in the difficult times, especially on "Come Weary Saints" and "Valley of Vision."
Indelible Grace
"Our hope is to help the church recover the tradition of putting old hymns to new music for each generation, and to enrich our worship with a huge view of God and His indelible grace."
I love the modern tunes that help me delight in the changeless words of gospel truth.
A powerful sermon by Michael Reeves on the resurrection of Christ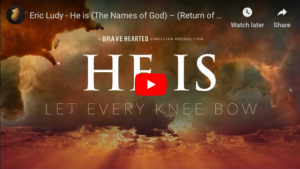 This 10 minute video brought tears to my eyes as the names of God through the entire Bible are proclaimed.
"This short video is not a gospel presentation, but a reminder of what God has truly given us as believers through the power of the gospel."
Full of Eyes (youtube channel)
Chris Powers' hope is to "fill this channel with videos that exalt Jesus Christ as the Joy, King, and Savior of the world. He is the One in whom we see and know God, and so I want all eyes fixed on Him. I'd love it if the Lord would use these videos to point you to Christ, and to empower you to point others to Him as well."
Beautifully illustrated animations that have helped me to remember my lostness without Christ, and many aspects of the gospel.